Resources available to Teachers

Virtual Field Trips
The Adrienne Arsht Center for the Performing Arts of Miami-Dade County, Miami Theater Center, and the Miami-Dade County Department of Cultural Affairs' Culture Shock Miami program, and South Miami-Dade Cultural Arts Center (SMDCAC) have joined forces to create the Miami-Dade Arts Education Collective (MDAEC). The Collective is committed to providing diverse and high-quality arts programming to students across all grade levels throughout the 2020-2021 school year. Learn more about MDAEC.
Most virtual field trips include study guides and opportunities to interact with the artists over Zoom. For more information and to reserve for your class, please contact education@arshtcenter.org.
Upcoming virtual field trips:

Diamond's Dream
Diamond's Dream is a virtual puppet production that takes place on a CTA Red Line train traveling south through pandemic-era Chicago. Diamond, a young African American boy, has fallen asleep on the train while on his way to visit his dying grandmother. When he awakes, time and reality have shifted, and he meets the ghost of a young African American girl, a shape-shifting elder spirit who died of Spanish Flu 100 years ago to the date. Both are confronted with paranormal puppets and images representing society's ills – ignorance, poverty, and racism. While the spirit girl seeks only rest, Diamond comes to understand she must first be remembered in order to find it.
Diamond's Dream is the first new work to emerge from the Springboard Project, a new initiative launched in 2020 by Chicago Children's Theatre to foster new works made especially for today's young people. The piece was created by Jerrell L. Henderson and Caitlin McLeod.
Discipline: Animation/Theater
Theme: Economic hardships, Family dynamics, Global Pandemic
Dates: Available until June 8, 2022
Grade levels: 4-6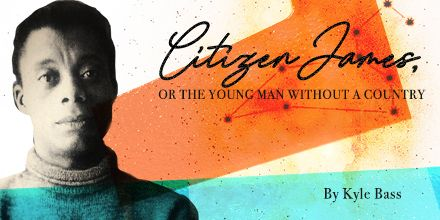 Citizen James
Discipline: Theater  
Theme: Police Violence, Suicide, Sexual Identity
Dates: February 7-18 & April 4-15, 2022
Audience: Suggested for Grades 8-12, college, and public audience
Citizen James, or The Young Man Without a Country Written by Kyle Bass| Directed by Joann Yarrow.  Meet a 24-year-old James Baldwin at LaGuardia Airport. Young James is an unknown aspiring "Negro" writer whose first novel has yet to be published. He awaits his flight, having just left his family with the news of his decision to flee America for refuge in Paris. He speaks no French. He has a one-way ticket and $40 in his pocket.
Witness James Baldwin as he decides he must do something to save himself from the violent reality of racists in America in 1948, a decision that sets him on the path to becoming a brilliant, powerful, and prophetic voice of the Civil Rights era and beyond. More than a one-man show, Citizen James is a bridge that connects the past to our now. Please note, the performance briefly discusses mature topics like police violence, suicide, sexual identity, and contains racially charged language.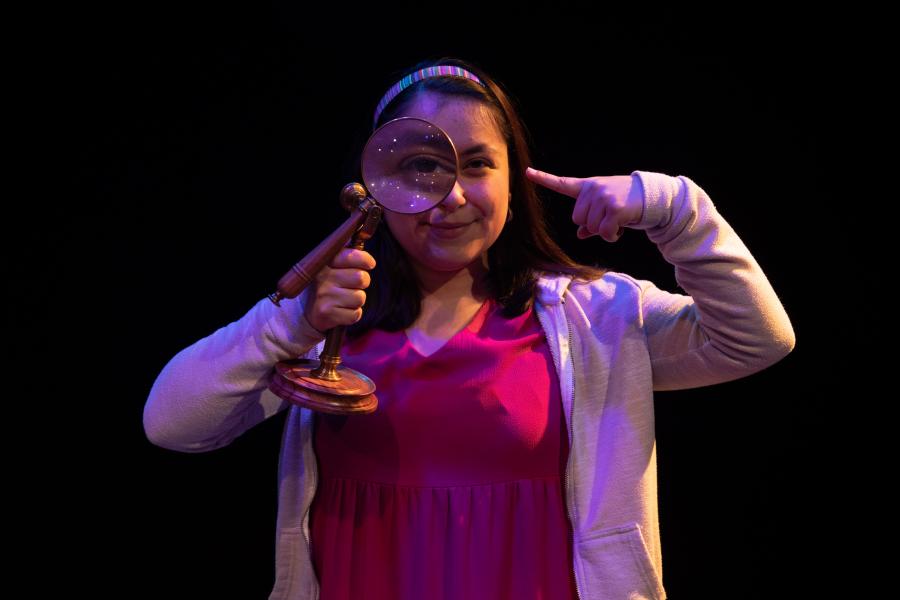 Cenicienta: A Bilingual Cinderella Story
Ten-year-old Belinda is a budding poet and loves to tell stories, but when she's stuck in the basement preparing for a party upstairs that her stepmother and stepsisters will host, she'll have to get creative. It's a story within a story; Belinda lives out her version while also re-enacting the classic tale of Cinderella, using whatever objects are at her disposal: napkins, teapots, and doilies, to name just a few. With these everyday items, a healthy dose of imagination, and a love of poetry passed down by her father, Belinda imagines a bigger world for herself…
When she learns that the party's special guest is (real life) writer Gary Soto, Belinda wants desperately to attend the party and share her own writings with Soto. But to do that, she must learn to stand up for herself and take charge of her life and dreams. This captivating bilingual one-woman performance is a modern spin on the beloved fairy tale and tackles cultural heritage, family, and the power of language.
Discipline: Theater
Theme: Cultural Heritage, Family
Dates: March 7-18, 2022
Grade levels: K-6
Miami-Dade County Public Schools Cultural Passport
All secondary grades throughout Miami-Dade County Public Schools are eligible for free Cultural Passport field experiences!  Teachers of any discipline may apply for a Class Pass to provide their class with a cultural field experience. Class Passes include student and teacher admission fees and bus transportation at no cost to the school, teacher, or students. Get more information. 
Use the Arts to Teach
Have your students write a review of an event.

Offer extra credit. Reward students who attend an event related to a class lesson or theme.

Take your foreign language class to a cultural program. Expand students' knowledge of world cultures.

Enhance a lesson on a specific subject. Conduct a virtual visit of a museum or attend a virtual performance. Check out Online Experiences for options and ideas.
Arts for Learning/Miami
Telephone: (305) 576-1212
Email: carolina@A4LMiami.org
Website: www.a4lmiami.org
Arts for Learning is a nonprofit organization dedicated to advancing teaching and learning through the arts and community cultural resources by linking learning experiences to the real world. Contact Arts for Learning Miami for creative ways to connect cultural experiences with your classroom curriculum.
HistoryMiami Museum
Telephone: (305)375-1492
Email: education@historymiami.org
Website: www.historymiami.org
HistoryMiami Museum is committed to serving South Florida's students, teachers and adult learners through exciting and innovative programs. Bringing over 10,000 years of South Florida history to life, HistoryMiami Museum has been welcoming visitors since 1984.
Our education programs are designed to provide age and grade-level appropriate experiences, while focusing on different learning modalities. Critical thinking is elicited as students compare and contrast the past and present and are encouraged to visualize and discuss what the future may be like, based on patterns of the past.
All programs are correlated to state educational standards. The programs also address curriculum areas beyond social studies, including language arts, mathematics and science (where applicable).
For more information visit our page or click here for bookings.
Pérez Art Museum Miami (PAMM)
Telephone: (305) 375-3000
Email: education@pamm.org
Website: www.pamm.org
PAMM Student Pass: Miami-Dade County Public School students, can get free admission to the PAMM through the Student Pass. Visit the PAMM's website for more information.
Free Educator Admission: All Florida K-12 educators with identification receive free admission to the museum.
Free School Fieldtrips: The Knight Schools Program offers free buses and free museum admission to Miami-Dade County Public Schools. School tours are offered Monday through Friday mornings. Schedule your visit here: School Tour Request Form or contact education@pamm.org.
Vizcaya Museums and Gardens
Telephone: (305)860-8435
Email: wendy.wolf@vizcayamuseum.org
Website: www.vizcayamuseum.org
Guided tours of the Main House are available for school groups from 4th – 12th grades. Group tours are conducted by professionally trained Volunteer Guides and are available by appointment. Tours last approximately one hour.
Vizcaya has developed thematic tours for school audiences which support local, state and national curricular goals in Social Studies, Visual Arts and Language Arts. Lesson plans are available.